Coursicle had a good year and I decided I should buy my friend Paul a car with some of the extra money (he kept having to take Ubers and Lyfts to get to his two jobs, which cost him a ton of money every day and he wasn't going to be able to afford one himself in the forseeable future). I did a bunch of research on how to buy used cars, put together a nice spreadsheet, and then we went shopping. We had a good time and were able to find something we liked same-day. After some successful haggling, it was ours.
read more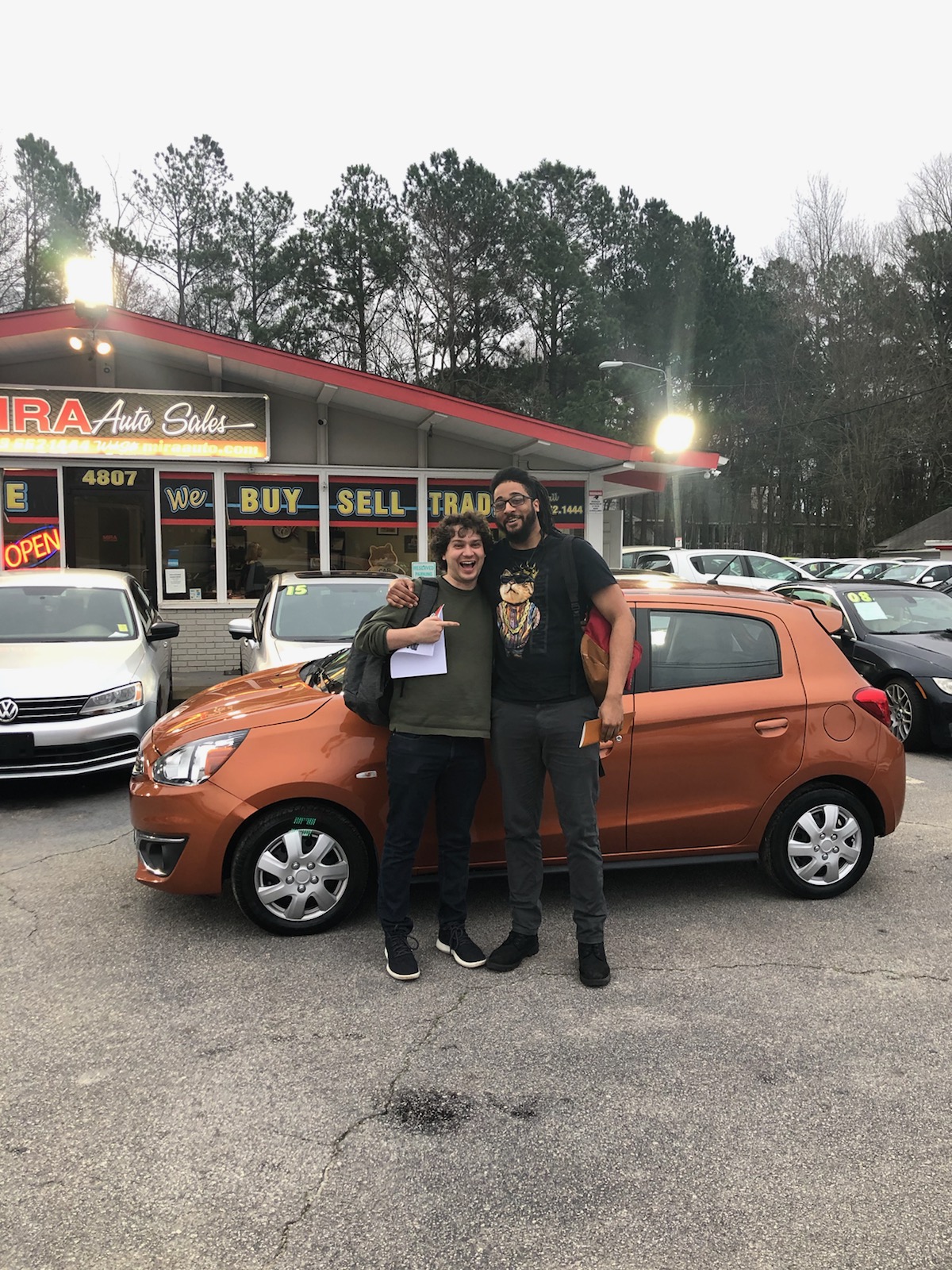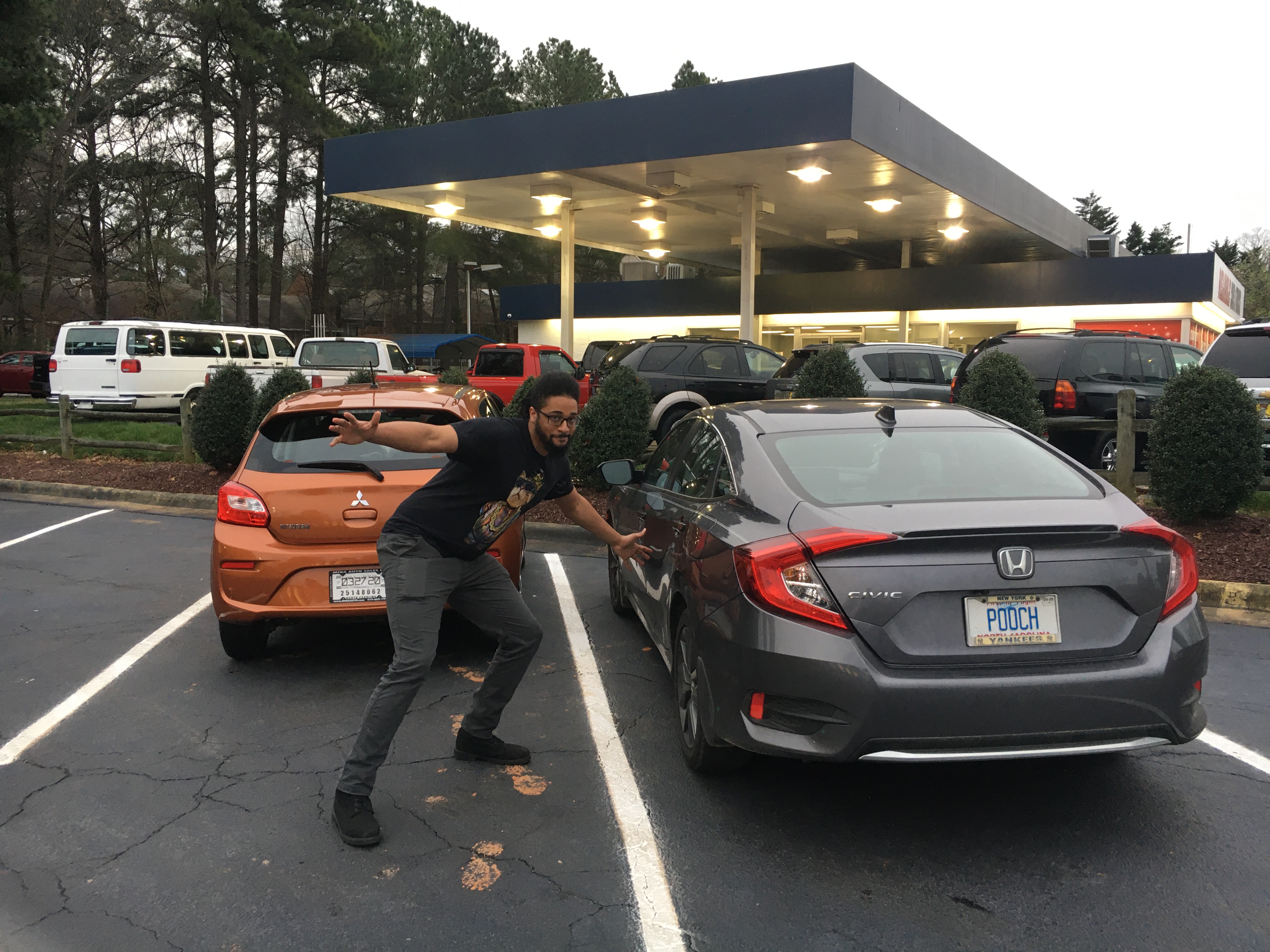 Paul's car (what we got): https://www.iihs.org/ratings/vehicle/mitsubishi/mirage-4-door-hatchback/2017
Advice from friends:
Internet advice:
Toyota and Hondas will incur an extra tax due to brand.
Go with Mazda, Nissan, Mitsubishi.
Used or new? Used. Cheaper car insurance, registration, taxes, and depreciation. Cars are also now very reliable. Even well over 100,000 miles.
Budget: $7,500. Absolute max willing to pay: $10,000.
Choosing car: use Edmunds's car finder.
Reliability check: Consumer Reports and J.D. Power
Cost to own: Kelley Blue Book's Five-Year Cost to Own or Consumer Reports' Cost of Vehicle Ownership
Other places to look:
Craigslist
AutoTrader
AutoList
CarMax
From my searching:
Look only at Edmunds and Craigslist, the others are way more expensive.
Estimate reasonable price: https://www.kbb.com/
Typical annual mileage on a car is about 12,000 miles. If a car has been driven more or less than this, the price is adjusted accordingly.
Need to run vehicle history report: https://www.nerdwallet.com/blog/loans/vehicle-history-reports-key-cars-past/
Does this car have a clean title? If a car's been in a serious accident, fire or flood, and was "totaled" by the insurance company (declared a total loss) it still might be driveable. However, the insurance company will issue a "salvage title" to alert future buyers. Steer clear of cars with a salvage title because it kills the resale value, and the car might still have hidden problems.
"Many manufacturers now include "powertrain" warranties up to 75,000 miles."
The simplest way to avoid this BS is by negotiating an "out the door" price
Get some insurance quotes for Paul.
Be prepared to spend a decent amount of time. Probably bring computer and do some work.
Auto experts say the lowest price for a reliable used car is about $2,500.
$2,500 will buy more if you look for a vehicle with minor exterior flaws such as faded paint, which lowers the price but doesn't affect the mechanical performance.
With a limited budget, you should look at cars that are at least 10 years old — models from before 2006 — and have been driven at least 100,000 miles.
Begin by searching for Japanese cars, because they have the highest J.D. Power satisfaction ratings, Ly recommends. However, Scroggs warned of the "Toyota or Honda tax" — a premium placed on these top Japanese brands because of their reputation for reliability. Instead, look for second-tier Japanese brands such as Mazda, Nissan or Mitsubishi.
It's especially important to look at the tires, since a new full set could easily cost $350.
https://www.reddit.com/r/UsedCars/comments/e7ol0t/used_car_buying_resources_free/
https://info.gapless.app/en/the-all-in-one-app/
Im sure its cliche by now, but any 4-cylinder Camry from 93-98, if you could find it. They laugh at almost anything you throw at them and the ride is pretty nice.
The more modern equivalent would be a mid-2000s Civic. Honda peaked there.
2001-2004 Civic, the best civic ever made. Hands down.
Theres always more room if youre a cash buyer.
There is no secret to getting a discount beyond being a cash buyer who makes a strong offer up front, i.e. dont offer me 60% of what Im asking because I likely paid more than that just to buy it wholesale.
The cultural lag of the 1970s is still smeared all over this business in that most people think a car over 100k is dead or dying.
Because then I dont have to deal with a bank who is going to take money out of my side of the deal AND I dont have to hope youre going to make payments on time like you promised. Do you have any idea how many used finance deals go delinquent?
https://safetradespots.com/
If a car is 6000$ and I offer the dealer 4200$ in cash, will that be a reasonable offer?
More context is necessary, but thats a lowball offer for sure. Thats 30% below the ask which is likely eliminating most profit to be had from the car...which means theres no incentive to sell. 4600 is a reasonable starting offer in hopes of agreeing somewhere around $5000-5200.
https://www.reddit.com/r/UsedCars/comments/9ay6jf/guide_what_used_car_should_i_get_for_what_budget/
https://www.reddit.com/r/UsedCars/comments/a2khd5/complete_list_of_used_car_buying_fraud_how_to/
https://lifehacker.com/the-best-strategy-for-buying-a-used-car-on-craigslist-1657481513
Look for similar vehicles on eBay and check their "buy it now" prices.
The title of a car is a legal document providing proof of ownership of a vehicle
Registrations are essentially documentation by your state's tax office validating that your vehicle has been cataloged in their system and determined as roadworthy.
Initial thoughts:
https://raleigh.craigslist.org/ctd/d/durham-ford-focus-7295/7044565737.html
Could definitely get a Ford focus for $5,000 - $7,500.
With Paul:
https://www.nerdwallet.com/blog/loans/auto-loans/buy-used-car/#test
The day of


Negotiation: 
- [ ] Could ask when tires were last replaced?
- [ ] Paying cash, up front. Check in your hand. Can put $500 cash down now. Come back Monday with a check.
- [ ] We'll be taking it to a trusted mechanic before purchasing.
    - [ ] Some dealers might give you pushback, claiming they've already inspected it. Go ahead and insist if you have any doubt about the car's condition.
    - [ ] On independent used car lots, you often see a sign in the window saying that the vehicle is "certified," which can mean almost anything — and usually means nothing  — about the condition or reliability of the car.
- [ ] OUT THE DOOR PRICE. $4500. 



First one was list 
$7200 for the Mitsubishi which is $200 above list



Things to check: 

- [x] Wear on tread on tires Penny in the tread slots. If you can see all . Tires are going to need to be replaced. 
- [ ] Check the oil. Check the color of the oil. If it's been burning oil it'll be really dark.
- [x] Visibility: Are there any blind spots?
- [x] Acceleration and cornering: Does the car have enough power? How does the steering feel? Wonky steering
- [ ] Brakes: Are they responsive and predictable?
- [ ] Mechanical condition: Listen for any unusual noises or vibrations that could indicate worn suspension parts or tires.
- [x] Leg room for Paul
- [ ] TAKE IT TO A MECHANIC BEFORE PURCHASING



- [ ] Color is ugly as balls
- [ ] Stereo installation is really old. No aux cable on phone. Going to have to replace that. Especially for 2016
- [ ] Check tire pressure




Continued reading: 
- [ ] https://www.reddit.com/r/UsedCars/comments/a2khd5/complete_list_of_used_car_buying_fraud_how_to/
- [ ] https://lifehacker.com/the-best-strategy-for-buying-a-used-car-on-craigslist-1657481513


Questions for Craig

- [ ] What do you think about that car for $7,000 out the door? It started at $7,800 out the door before negotiation. 
- [ ] What would you suggest we try to do to get them down on price? 
    - [ ] He said he wouldn't be surprised if they weren't willing to go lower, but could bring up the tires. 
- [ ] What do you think about the airbags being recalled? 
    - [ ] Just have to bring it to the dealer and get them replaced. It's free. Just takes a day.
- [ ] It's been in an accident. 
    - [ ] He saw the redone paint job, but he said there was no structural damage. 
- [ ] What are things we can do to prolong the life of the car?




Same place for oil changes and break pads and filters every time, just bring it to a trusted. Stay away from Jiffy Lube, unless it's just an oil change or something.  but have a real mechanic look at it every so often. Hopefully the mechanic should take a look every 10k 30k 60k 90k miles. 

My recommendation to Paul: just take it to Craig every time it needs servicing. He'll treat you right. Just say you're a friend of Mr. Jenkins. Service it regularly. 

Most of the heavy stuff. Should get a mechanic to do it, not Jiffy Lube. They don't really know what they're doing. 

$112 for the service with Craig. 

Craig said you could wait months, but any deal is going to be pretty close to this one. 

Craig said that the back tires shouldn't have passed inspection, but that happens every so often even on their lot. The treads were warn down to the service mark. 

He said it's a pretty simple car. Not much stuff to repair, which is good. 

May want to get the oil reduced, he said someone overfilled it and that could cause more problems later on, causing leaks where there weren't leaks before. Honestly we should just go get it serviced. Joe will pay and Paul will pay Joe back. 

Go get it serviced by Craig. $300.